It has been an arduous wait for the release of Ethereum 2.0 (also known as 'Serenity'), since it's first unveiling back in 2018 of Vitalik's Devcon speech. The upgrade, was said to be revolved around 5 core principles, Simplicity, Resilience, Longevity, Security and Decentralization. Main changes include 3 major adjustments done to the current protocol (Sharding, Proof of Stake, New virtual machine), all in Vitalik's efforts to solve his proposed 'Scalability Trilemma problem'.
Too Big To Fail?
Through the test of time, Ethereum has been seen as the gift that keeps giving. From the continuous upgrades, to the heavy dependency of Altcoins on their ERC20 platform, and now with the DeFi hype lingering in the crypto atmosphere, they are almost too big to fail.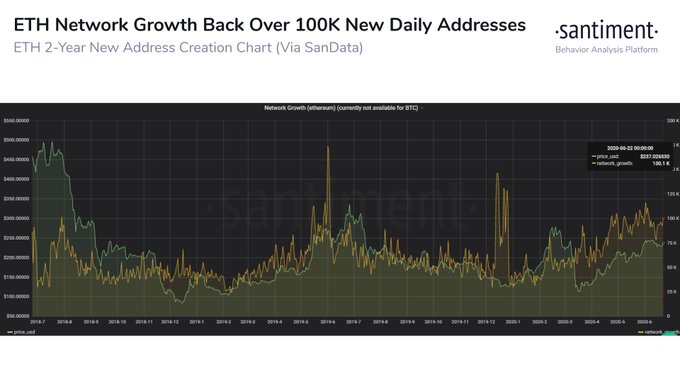 The recent spikes in the number of new ETH addresses has been impressive to say the least, crossing the 5-digit market much more frequently on a daily basis. This surge in usage does bring about an unwanted consequence, a rise in gas fees. A number of users have reportedly paid a staggering number of more than 150 times their usual transaction fee.
Technical Analysis
Weekly View
As seen in the weekly:
Price has found support and rejecting off from the zone formed from the previous high. (215~228)
17&50 EMAs made a golden cross, showing that the bulls have finally taken control.
Taking Fibo from the previous rally (AB wave), we see that price has yet to reach the -27.2 Fibo extension. (~265)
Daily View
Price is rejecting off a support-turned resistance zone formed since around mid-Feb to mid March 2020. (Multiple attempts to break above but fails to)
A bull flag is clearly seen to have been formed, which had since been broken AND retested, reinforcing bullish conviction.
17&50 EMAs are closing in, showing that the bullish momentum is weakening.
Taking Fibo from the previous AB wave, we can see that CD wave is over-extended (past -61.8 level), which is something to be wary of as price could suddenly an unexpectedly strong retracement.
H4 View
This timeframe is particularly interesting to me because it tells a different story which could potential affect the decision of whether to be short ot long on ETH/USDT.
First thing I noticed, the famous H&S pattern is in formation, with the right shoulder rejected off at around the same level as the left shoulder.
Short-term active counter trend-line has been broken AND retested, leaning towards the likelihood of an upwards rally.
Overview (SHORT)
You must be wondering to yourself "What the hell is this guy talkin' about he just spent almost the entire blog post talking about how bullish Ethereum is?!" Allow me to explain.
What I always preach about in my blog is risk management and risk:reward. If I were to open a bullish position for ETH/USDT now, it is evident that the upside potential is very limited, since there is a major resistance directly above that had time and time again proved to be a huge hurdle for Ethereum. This means my risk:reward ratio will be an unacceptable 1:1.5 or at best 1:2 🙅🏻‍♂️
Instead, this will be what I am expecting to see. Using the line technique, I have found a level at around 237, which can serve nicely as the neckline for the H&S pattern. The price will have to make a clean and strong break below the line said line, signaling to us that the pattern has been completed and is well on its way down.
Take entry on retest, set the proper stop-loss for risk management, and always make sure that you have a minimum risk:reward of 1:3.
Disclaimer: The above does not constitute as investment advice. Do note that trading cryptocurrencies (or any other financial market) involves substantial risk, and there will be a potential for loss. Your trading results may vary. Please practice the proper risk management to avoid risks of approaching account zeroing and liquidation.